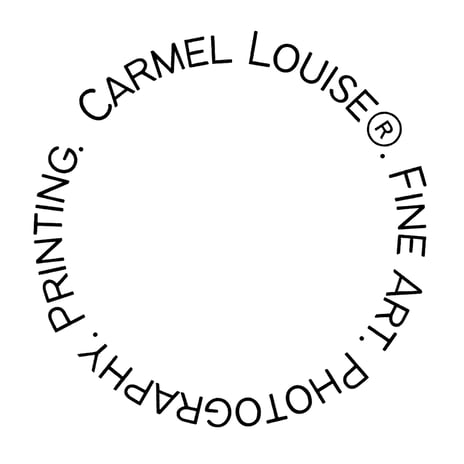 I am a Melbourne artist who lives and breathes unconventional abstract photography with a BA in fine art photography, graduating in 2010 with distinction. With a background in science and ceramics and a hands-on approach, my art practice experiments with the compositional elements in a single photographic image through digital deconstruction and the deliberate physical disruption of the print surface, through cutting and folding techniques.
​I was initially drawn into photography in the mid-noughties because it had evolved into a digital process away from the wet chemical analogue method. I have always had an interest in the potential of digital editing and how apps like Photoshop can assist in the experimentation and creation of new work. Because photographers need to keep up with modern technology and explore the potential and possibilities of this techno-revolution, my artwork evolved along with my interests in 21st-century technology.
My art can be complex, but it reflects what I see going on around me. Being immersed in an environment and demographic that is changing at a fast pace has had a major influence on my practice. All the original subject matter comes directly out of my daily interactions in a rapidly evolving/ gentrifying urban environment around Lygon Street, Brunswick. Life is a compositional riot of experiences, emotions, color, forms, and textures, and these elements can be found within our photos. Using the same tools that all digital photographers use, I began to explore, experiment, and tease out the unseen and unexpected from one single photo. The capacity to step away from the confining, traditional notion of photography is what lies at the heart of my artwork. I believe photography can be so much more even when using the same tools and techniques that traditional photographers use. It just depends on your ability to see it can be so much more than what it appears to be.
All my artworks are created from photos that would be considered mundane by modern standards, from florals to construction sites. They are all observed in my daily life and have been subjected to a technique that I call DeConstructed Photography, which describes both the digital and physical processes perfectly. This experimental technique creates undetermined imagery, based only on the original photographic data. One point I would like to make is that with all experimental processes, there are always successes and failures, and it is a testament to this technique that I have had both.​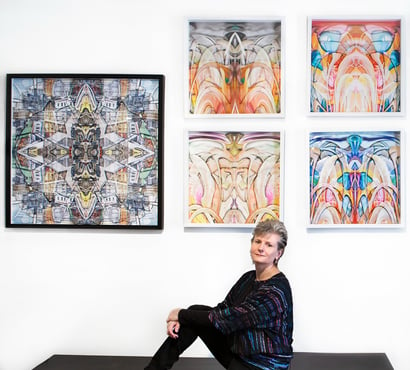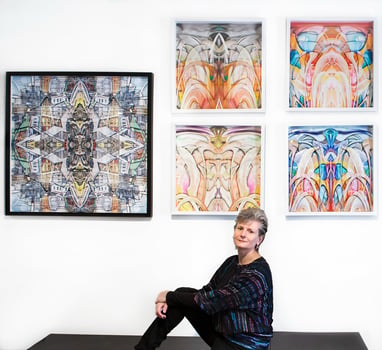 2017 - 2022 Fine Art Printing Service
2007 - 2022 Freelance Photographer - Portraits, Products, Pets, Advertising, Architecture, Landscapes
2010 - 2018 Teaching part-time, Photography & Photoshop at St Kilda Community Housing, and curating the groups annual exhibitions.
SOLO EXHIBITIONS​
2021 De_Constructed 2.0 The Long Gallery, Montsalvat
2017 DeConstructed Photography - The Laneway Artspace, St Kilda
2014 Rorschach Dreaming Gasworks, Albert Park
2013 Seasonal Rorschach 2 Carbon Black Gallery, Prahran
2012 Seasonal Rorschach Archetype Gallery, Sydney
​AWARDS​/ART PRIZES
2022
Finalist - Bluethumb Art Prize
Finalist - The Noel Counihan Commemorative Award Moreland Summer Show: Future Tense
2021
Finalist - Nillumbik Prize for Contemporary Art Barn Gallery, Montsalvat
2020
Finalist - Wyndham Art Award Wyndham Art Gallery
2019
Finalist - The Noel Counihan Commemorative Award Moreland Summer Show: Language & Liberty
2018
Finalist - The Noel Counihan Commemorative Award Moreland Summer Show: Peace & The Pursuit of Happiness
Finalist - Hornsby Art Prize Wallarobba Arts and Cultural Centre
Finalist - Corangamarah Art Prize Red Rock Regional Art Gallery
Peoples Choice Award Recipient - Wyndham Art Award Wyndham Art Gallery
Finalist - Highly Commended- Contemporary Art Awards - (Document) www.contemporaryartawards.com
2017
Winner- Inaugural Noel Counihan Commemorative Award Moreland Summer Show: People, Protest, Power
Finalist- Burrinja Climate Change Biennale Burrinja Gallery
2010
Finalist -Williamstown Festival Contemporary Art Prize The Substation Art Centre
GROUP EXHIBITIONS​
2022
The Other Art Fair Meat Market, Melbourne
2020
F_OC US Counihan Gallery Memento Magnet Gallery
2019
Songs Of Innocence Magnet Gallery, Melbourne
2017
Sydney Rd, Poles ApArt Project Sydney Rd, Brunswick
2016
Factivism, Counihan Gallery, Brunswick
2015
CCP Salon Contemporary Centre for Photography, Fitzroy Science Friction Counihan Gallery, Brunswick
Urban Materiality Brunswick Street Gallery, Fitzroy
2014
Speak Out Counihan Gallery, Brunswick Flora and Fauna Brunswick Street Gallery, Fitzroy
2013
Current Tendencies, Counihan Gallery, Brunswick
Confluencias (Document) Museum of Freemasonry, Sydney
Time and Tide Toyota Head Office, Port Melbourne
Linden Postcards Linden Gallery, St Kilda
2012
Urban Creatures, Toyota Emerging Artists Exhibition Toyota Head Office, Port Melbourne
2011
All My Brothers Wives Platform Space, Majorca Building, Kodak Salon Contemporary Centre for Photography, Fitzroy
2010
RMIT Fine Art Photography Graduate Show 45 Downstairs Gallery, Melbourne
My Life, Your Death First Site Gallery RMIT, Melbourne
"The Memorial" Death Be Kind, Brunswick East
2008
Look Out Hogan Gallery, Collingwood
2007
On The Wall Cusp Gallery, Northcote
2006
Ampersand Cusp Gallery, Northcote
​PUBLICATIONS​
2021 Future Now - Cooltzine#4
2020 Art Reveal Magazine No.502018 Reimagining the Regeneration Process by Dr Julie Rees
2017 DeConstructed Photography 2017, Limited Edition of 10
2014 The 'State of Art' art book - 'Photography and Digital', BareHill Publishing
2013 Seasonal Rorschach 2012, self publication
2012 China Surface Magazine "Intra Generational Portraits" January edition
2011 Exposure​
EDUCATION​
2012 Bachelor of Fine Art Photography with Distinction RMIT
2007 Diploma of Multimedia Kangan Batman Tafe
​COLLECTIONS​
Moreland City Council
Private Collections in Germany and Australia
Olivia Newton John Cancer Ward​​